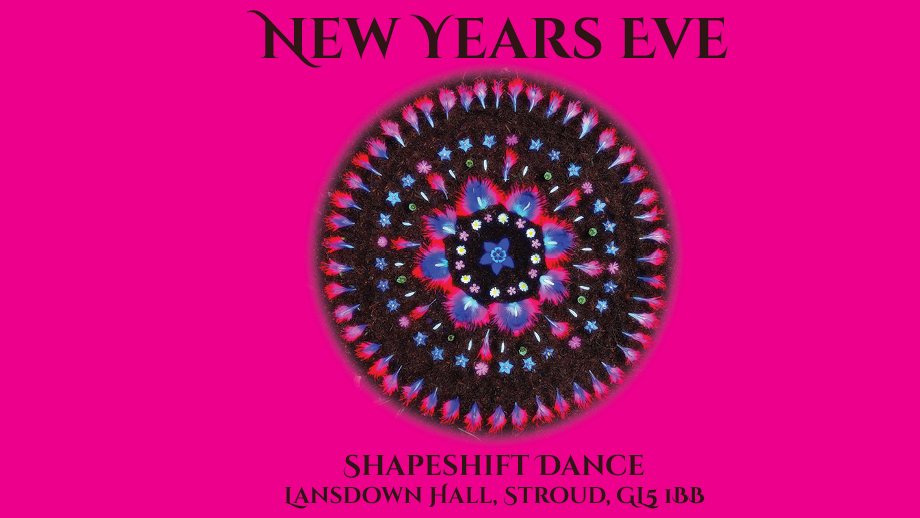 Mandala: Susie Killick
New Years Eve Celebration
Shapeshift 2019
Tuesday 31st December, from 8pm-1am, Lansdown Hall, Stroud GL5 1BB
Letting go of 2019, Celebrating 2020
Embrace life, lets dance.
7pm

Cacao, Rose & Song –Corinna & Richard.

8pm

Guided 5 Rhythms® Dance -Dawn

8-1am

Fantastic music - dance, chill, chat - low cost tea & cake bar.

12pm

Ceremonial transition into 2020.
Drug & alcohol free.
Cacao and Rose
Here is some information about the Cacao and Rose which we invite you to drink at 7pm at the start of the evening, prepared by Corinna Mainberger who practices Naturopathy and nutritional therapy, and her husband Richard Matthews, some information from Corinna. Please read on It is more than just hot chocolate!
The evening will begin with a ritual of drinking the finest ceremonial grade Cacao: ''The Food of the Gods'' (modern addition: and Goddesses)! as the Greeks called it.
The cacao is absolutely pure, unadulterated, not heated, roasted or conched as in commercially produced chocolate. This is the closest you can get to saying it is ''raw'', but all cacao beans are actually slightly fermented, so a little bit of heat processing will be involved even in so called raw chocolate. In this form and quantity Cacao acts like a gently transformative medicine.
It is very rich in Anti-oxidants (protect against cell damage), works on many mood enhancing Neurotransmitters, is rich in Magnesium and trace elements, and is especially beneficial to open up the heart chakra.
It does not contain caffeine but a similar substance called ''Theobromine'' producing extended stamina, focus, clear thinking and wake-fullness. Can enhance the feelings of bliss and meaning-fullness in any spiritual practice such as movement (dancing), Yoga, meditation, and opens you to relate more deeply to others, your community and Yourself.
This medicine plant will be potentiated by a locally made Artisan essence of Rose. Cacao and Rose have long been wedded for their synergistic effect at special occasions such as weddings or Valentine's Day etc. And to take it even one nudge further: a Homeopathic-Alchemical essence called 'Liberation' is being added enhancing these expanding and freeing properties of Cacao.
You might not want to drink it all in one go, if you are new to its effects. So feel free to stop or spread it out over the evening.
Please note that cacao is contraindicated when on mood altering prescription drugs, and in heart conditions!
Please also note the cacao served will be vegan, and does not contain any psycho-active substances nor added alcohol.
Booking
Any queries email: dawn@shapeshift.co.uk
Payment possible by bank transfer (Account no. 40922402 Sort code, 09-06-66, please reference the payment with "NYE" and your first name so that I can identify the payments), or pay via paypal selecting from the dropdown menu below the amount that is right from you, and click "Buy Now".