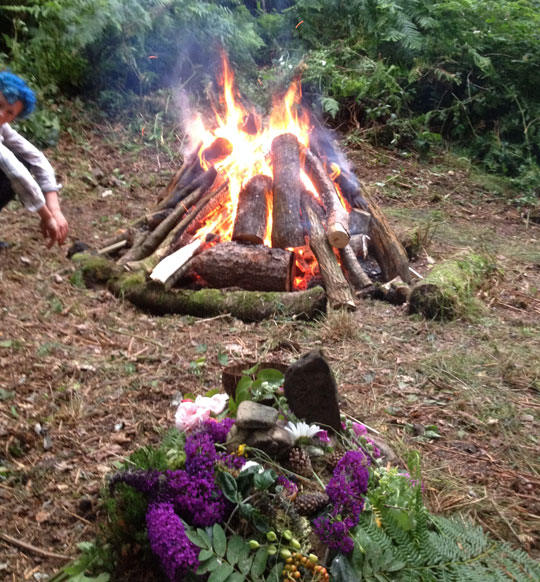 Sweat Lodge
at the Lune Valley Movement Space
This Sweat Lodge will take place in the day time of 4th November 2017. Preparations begin at 9am, please arrive by 8.30am in good time to orientate, perhaps have a cup of tea, before we begin with a check in circle at 9am. We aim to enter the lodge around midday and be complete by 5pm.
On a practical level the Sweat Lodge is like a sauna or steam bath.Through the use of ritual, sacred choreography and song we seek to inspire an attitude of reverence, expanded consciousness and gratitude.
The Sweat Lodge site is down a fairly steep and can be muddy hill. There will be carrying and physical work to do as well as food preparation, and other tasks, each person is supported to find the job they are able do and want to do well. The lodge is a community co-created ceremony, we all prepare and experience it together, within that each persons experience is their own and though we support each other, each person is responsible for themselves. Please see booking form.
What to bring:
All weather shoes and clothes
Bedding and towel, if you are staying over, (there are some fold out mattresses and beds) and breakfast. Food to share, breakfast if you are staying over.
A torch
Something to wear in the lodge if you wish, a sarong, towel, shorts, cotton dress or similar.
Sacred/meaningful object for the shrine
your courage and sense of humour!
Please be in touch for more info. dawn@shapeshift.co.uk
And here are some words from Richard Whiting who will be running the lodge:
Richard has spent the best part of his life in nature, Working as a forester and mountain conservationist. During this time he studied Thai chi and weapons form intensively. Developing ki practice through ki walking, yoga, qi gong and yoga nidra. He is a Shiatsu practitioner and a reiki master and is developing this practice through continuous engagement with sacred lodge ceremony.

"The lodge ceremony has my heart and my passion. It is both vastly humbling and, paradoxically a great joy and honour to be invited to pour water at the Lune Valley Movement Space. Thankyou."
More informaiton about the space, and directions...
Booking
To book.
Pay what you feel you are willing to contribute, either by making a bank transfer (Account no. 40922402 Sort code, 09-06-66, please reference the payment with "Lodge" and your first name so that I can identify the payments), or pay via paypal selecting from the dropdown menu below the amount that is right from you, and click "Buy Now".
Then register using the form below.
Back to the Lune Valley Movement Space summary page